2013 Top 16th Best Wedding Photographer by the AG/WPJA - Milwaukee Wedding Photographer
I am extremly honored to have been selected top 16th best photographer world wide by the AG/WPJA.
And the 4th American !!!
The AG/WPJA, is the Fine Art Photojournalistique Wedding Association !
Artistic Wedding Photojournalism
The Artistic Guild of the Wedding Photojournalist Association is a distinct division within the Wedding Photojournalist Association (WPJA). The AG|WPJA focuses strictly on the artistic and "fine art" aspects of wedding photojournalism.
AG|WPJA members are international wedding photojournalists, who excel both in creating outstanding images through a documentary approach, and in the art of post-production processing of wedding photographs. In a nutshell, AG|WPJA photographers take great candid pictures, enhance them using the technology available, and deliver museum-quality images from your wedding day.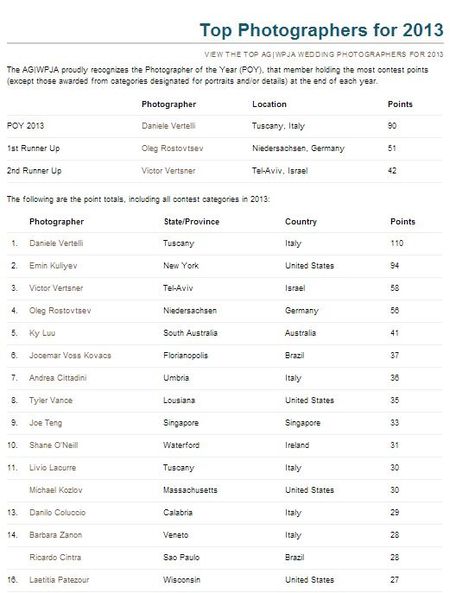 Thank you so much :)